She's Wearing Blue Again
Performed by Brandon Rosage · Written by Jim Newcombe, Geoff Taggart, Brandon Rosage
Listen on your preferred digital music service: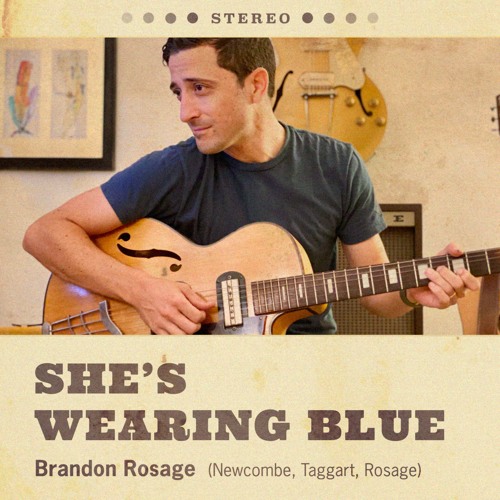 I'm entering a new frontier today with my recording of "She's Wearing Blue."
It's the first tune I've produced that I composed, arranged, and co-wrote.
The very generous Jim Newcombe, a songwriter based in Toronto, reached out to me a few weeks back to encourage me to record one of his songs. I recorded demos of a few before setting my sights on the lyric sheet for "She's Wearing Blue." It had no composition, but Jim pitched it as a ballad.
I learned rather quickly that I struggle to design a musical feel for a song I'm composing when that feel is predetermined. If I'm putting myself into a song, rather than recreating the feel someone else has already established, the feel has to be more honest — less performative.
The original lyrics to "She's Wearing Blue" were very self-pitying, with the singer dumbstruck as to why his love interest won't choose him. That's not my thing. So I naturally changed the story so that the singer is knowingly smiling at his love interest from afar while she makes mistakes, declaring, "that's the fool for me."
And, of course, it's an uptempo shuffle — not a ballad.
This tune was also a lot of fun to record, since there is no other cut to reference. So I was very adventurous with trying a lot of different guitar tones, drum styles, and mic'ing techniques. I ended up with a lot of unused tracks of instruments I decided later not to use.
The final mix features two vocal tracks, brushes on snare, a '71 Fender Telecaster on the neck pickup going through a 1x12 Magnatone Twilighter, a '50s White lap steel guitar through the same amp, Squire Precision Bass through a Fender Twin Reverb, and a Breedlove acoustic guitar.
Thanks for listening. ❤️